Wednesday, 01 August 2018 00:00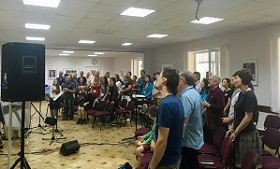 In late September, we held our annual Simple Church Conference in Kiev. It was a wonderful time and we were blessed to have Wayne Jacobsen teach us and lead our discussions. Wayne is the author of He Loves Me and So You Don't Want To Go to Church Anymore.

The discussions we had about our relationship with God and with one another deeply touched our lives.

Acquaintance
1 discussion
2 discussion
3 discussion
4 discussion
5 discussion
6 discussion
Attestation